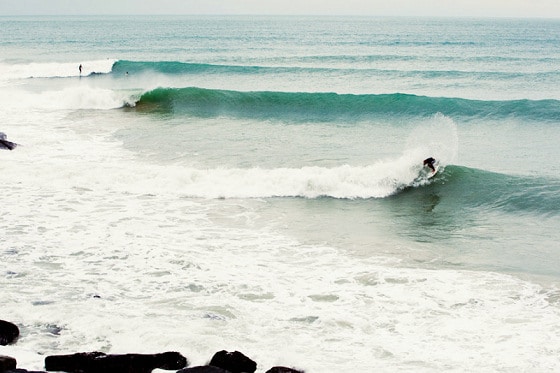 (This is an article reprint from Global Times published in 2012)
Pristine beaches and a refreshing lack of crowds draw Western surfers
Having recently landed in the arms of Haikou, Hainan Province, I, a surfing enthusiast, headed straight for Hainan Island's waves and surf culture. Theoretically, there should be good surfing in Hainan. Indonesia, Japan, and the Pacific Islands are known for their waves, calling to the eager ears of my surfer brothers and sisters from across the world. China, however, is known for being a competitive force in assembly-line surf board factories. Imagine my surprise when Hainan Province began to reveal itself as a veritable surfer destination!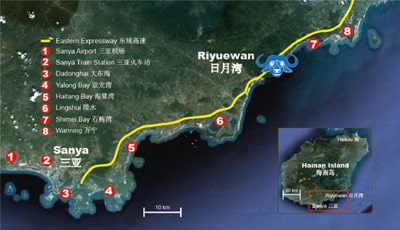 Initial preparations
I began my research on Haikou surf in June of 2011. Search results for "surfing in Haikou" yeilded 1.7 million hits, with only 4 pertinent sites among them. Upon inspection, these sites were mostly advertisements without any real information on the subject. Click after click, I found nothing, marking my first frustrating experience with surfing in China.
I had no way of preparing for the experience, until I came across Brendan Sheridan, a former Californian. Sheridan responded to my surfer forum posts via e-mail, commenting that Haikou would not be the place to find impressive waves. In the following weeks he would introduce me to both Chinese and foreign folks who are shaping the nascent surf community on Hainan Island. This meant having full access to the best breaks on the island with face-to-face interactions with the people who knew them best!
I registered for both divisions of the Surfing Hainan Open, a local surfing contest, scheduled for the first weekend in December. Lacking a surf board, leash, wax, or a light wet suit, I had to go shopping. Here in Hainan, finding what I needed proved to be a challenge. The two stores in Sanya had long boards, but neither had a large selection of short ones, and neither carried surf clothes for women.
Within two weeks of the contest a fellow surfer put me in contact with the only board shaper in the province, Hiroshi Yokenawa. It was shocking to run across a shaper who still uses foam to make surfboards on an island where finding equipment was so difficult. Board shaping has become a lost art in California, with most shops now carrying boards claiming to be Australian, which, in fact, are made in China.
The Thursday before the contest, Hiroshi presented me with two brand new, custom-made short boards, a board bag, fins and leashes. I was grateful that my anxieties had been quelled by the kindness of a stranger.
Lacking accommodations
Another limitation of Hainan's surf culture is the matter of lodging options. Most of the great winter surf breaks are in remote areas that offer few choices for an overnight stay. In Sanya, one can find hostels, like the Raintree Backpacker or International Bay, where a ride to the swell is arranged. I was unprepared and paid 300 yuan ($45) a night in a hotel in Riyue Wan. Later, I learned you can rent a room in one of the homes right in front of the waves for 100 yuan. This is the type of information you can find, like many things on Hainan, through word of mouth.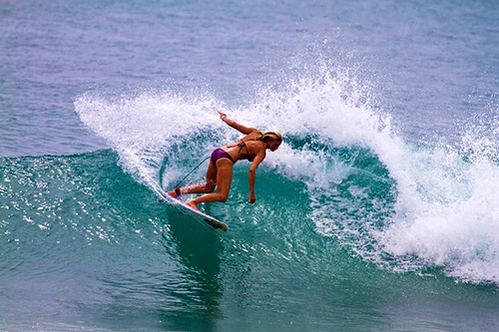 The good news
The government is committed to developing Hainan Island as a center for tourism. Japan and Indonesia's industries blossomed by embracing what Westerners were building in conjunction with local people. If China can look to the mix of surfers already existing on Hainan for guidance, Hainan too will attract more travelers.
The frustrations are well worth the community and waves here on Hainan. In one month's time the help of strangers ensured my success on this journey to surf. Such kindness did not exist for me in the US.
Before I came to China, Sheridan noted that "being able to surf a head-high point break with just a few people out is an experience unique to Hainan." When I arrived, I was the fourth person in the water. Here, there is no "wave terrorism," no need to claim territory. Over the entire weekend there were maybe six or seven of us out in the breathtaking waves. Sheridan was right: few places can claim this.
The warmth of the locals and the vacant beaches are reason enough for me to continue coming back to Hainan. This is a fantastic start for China in getting others to add Hainan Island to their list of great places to surf.
Friends of mine in China: