ED-VENTURES :  Learn to Surf in Another Land

||  Playa San Antolin is known as a great surf spot in Asturias. Come learn to surf here during the summer or experience bigger, stronger swell during the Winter. ||
Club Ed Surf is short for "Club Ed Surf School and Camps," which does not encapsulate any mention of our commitment to travel afar in search of foreign wave opportunities for groups interested in surfing beyond the safety of their home break. However, this is part of what we do: Provide options for international surfing under the security blanket of our schools. We humbly call these "Ed-Ventures."
Initially, I was going to Madrid only as support (I'm fluent in Tech, Spanish and once was Basque) for a Google Ventures project opening a set of high-tech offices in the Manzanares sect south of the popular zona, "La Latina."
I landed in Madrid, June 1st, and literally stumbled into a corner skate and surf shop named: Toxic World. This changed my game plan for the trip shifting the focus from tech support to searching and reviewing waves. Specifically, I became interested in breaks fit for learn to surf groups and for those seeking to strengthen their surf palates on more challenging surf. Pedro, owner of Toxic World, encouraged me to connect with a surf club called: Up Surf. This group is led by Borja, a guy local to Madrid, whom organizes groups of otherwise landlocked surfers and facilitates trips to surf breaks on the weekend. Knowing now what I didn't know 14 days ago, it will be easier to lead a group for Club Ed Surf in the future. However, in the heat of finding my way around the waves of Spain there were "pros" and not so "pros" parts of signing up to be part of the Up Surf Club outing. I've listed a few below and then I move on to talking about the waves.
Let us start with the positives:
PROS
a. Get a Ride to the Surf Break, Cheap Accommodations & Fitness.
Reaching out to the club allowed me to connect to people in Madrid that, for a fee ranging from 20-45 Euros, would taxi me to wherever the outing was for the weekend and/or event. I was picked up by a charming sir at Plaza De Castilla. This meant an opportunity for two things: learning the metro to go there and, therefore, getting to see a part of Madrid I wouldn't have otherwise seen!
Also, in meeting people already in the local surf culture there was a guarantee I would find where to rent equipment.  Furthermore,  a place to stay was only 20 Euros (however, this is a shared space. Usually 4 to a room per night. Another cool feature of this club is that they offer cross training sessions for getting/staying in surf shape. I met, Jacobo, one of the trainers passionate about surfing and skating.  He and his client, Paolin, took me out on the boardwalk with a Carver skate board and showed me an excellent "Plan B" for when the waves are non-existent.
CONS
a. Potential Sexists, Low-Quality Rentals & Close Quarters in a Party House.
The leaders of the surf club made it difficult for me to rent a fast, high performance board. They couldn't believe that I wanted something under 6 feet high (I am 5'8 and female). I was asked repeatedly about my level of surfing despite being told, before booking with the group, that it would be no problem to rent a 5'10 board. The guys would later share their surprise to my charging waves in over-head surf- because I am sans-penis. Oh and the fact that I could pop-up in a heavy wave would also be mind-blowing to the locals I was floating over and surfing past. #HechaEnVenice
Just a note that the board I borrowed was from one of their competitors instead of renting one from Up Surf Club House. Alex, the owner of Surf Ribadesella, is a local Asturian that immediately responded when I asked about renting a small board.  More on them below (I highly recommend these guys – SURF RIBADESELLA).
Lastly, most of the culture within the house/club surrounded going out late and drinking.  I'm all for having a great time but anyone serious about surfing would be awakened by the roommates coming in at 3 AM. I didn't get much sleep. This aspect of the "club" experience is not advertised in the brochure, however, it may be a cultural given. None the less, no one was up for dawn patrol in this house.
Some of the folks I met through "Up" were chill and thoughtful. Overall, it just wasn't my bag.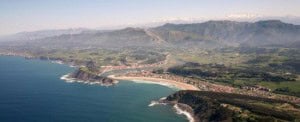 (Learn to surf in Santa Cruz or go to Spain's Santa Marina Beach with Club Ed Surf School- featured here in the picture on the right.)
::  TO NOTE  ::
The group I would borrow the board from was the best connection I could have accidentally met during my 2 day stay in Asturias.
SURF RIBADESELLA is a surf school and camp – much like what Club Ed Surf Schools and Camps are to learn to surf and learn to shred surfing in Santa Cruz. They are embraced by the local surf scene because they are locally owned and respect their community. Surf Ribadesella prides itself on quality surf instruction adhering to standards of quality rather than concentrating on getting large numbers of students.
Through a random connection, owner Alex, would drive from his home town to where I was – just to bring me a board (a 6'0, Lost Board, thruster set up). Eventually, he would show me other surf breaks and take me to various delicious restaurants to try the food from Asturias, Spain. He showed me secret spots that Up Surf Club didn't know about – because Alex is a local surfer, fluent in dialects of Basque and Asturian, with open invite to all of the local beaches.
The Madridian surfers would not be welcomed at these spots. In fact, they would be putting themselves in harms way had they showed to the same beaches I was given access to. #Grateful  #Stoked
WAVES.
Okay, let's get to the nitty gritty.  What about the waves in Spain? I only got to visit the Northwest side of Spain- Asturias. Spots where I spent time are pictured above and below. I won't mention the secret breaks but, instead, keep to mentioning Santa Marina and San Antolin– Breaks seem to fare better with Northwest swells coming in. I was able to surf 2.5 meter (6ft- to overhead) waves one day for each one of the spots. The paddle out was a bit less hairy for Playa Santa Marina. I found a channel on the right hand side super helpful, although waiting for a paddle out between sets would be fine enough for anyone that is in surf shape ( I am not in the best surf shape currently). Those involved in a learn to surf camp stayed mostly within the inside waves approximately 2 feet high with an occasional 4. The shape was mixed that day with a combination of wind and groundswell. I found that the wave shape was the best between tides. Santa Marina set up nice left and rights both on the inside and outside.  Every couple of sets introduced a sweet, well formed face opening up right and rideable across the surf all of the way to the beach. I was told that Santa Marina holds better than other spots since it is protected. This is definitely a great spot for learn to surf until the swell hits directly- then expect double overhead surf in shallow-ish waters and a beastly current from the river mouth.
San Antolin is famed for barreling – with appropriate conditions. I had hopes for this opportunity. However, the swell came and went in a day from the NorthEast and boasted onshore winds by the afternoon making the waves more like a pancake breakfast than a tube. Boo.
.
I heard about the Mundaka wave despite not following commercial surfing. Everyone I've met here has asked me if I would go to the Bay of Biscay to surf the infamous beach and wave. I waited for the swell to come in and prepared for weekend plans to head into Basque country. However, when it came down to the weekend of June 13 & 14th – the ocean would go completely quiet all along the coastline. Even the first annual surf contests to be held in Santa Marina beach would be cancelled.
It is now Tuesday morning. I've been checking surfline and magicseaweed hoping that something would awaken the Atlantic.  Abounding stillness. There will be no Mundaka for me this time around. :/ However, this surf experience in Spain has been incredible. I didn't ever expect to be surfing Europe and am grateful for the people that helped make it happen.