It's a booming time for surf lessons here in Santa Cruz. We've booked up to 67 enthusiastic people per day in our group lessons and 123 cool kids in our 5 day/overnight surf camps (we still have room in our August camps) located in the epic Manresa State Park. Recently, we've had several concerned folks calling Club Ed Surf School to ask about the Great White Sharks that have been in the news, near the sunken ship, at Seacliff State Beach.
So how safe is it to take surf lessons in areas known for their "men in grey suits"?
At the risk of spoiling the ending to this blog post:
It is safe to take surf lessons in Santa Cruz.
84% of people calling us for surf lessons (Santa Cruz) have asked about the prevalence of sharks (98% of people that will never learn to surf say their reason is primarily a fear of the quiet giants known for lurking beneath the surface) in our beaches. Since 1928, Santa Cruz has had 7 shark "attacks." SEVEN. Fatalities? Zero. Consider the number of people exposing themselves to the domains of these creatures. In the year 2000, it was estimated that there were 3.3 million surfers globally and 1100 in the State of California. I'm comfortable with stating that, in the year 2015, there are approximately 1100 surfers in Santa Cruz, alone (if not more).  This doesn't account for body boarders, swimmers, sail boats, wind or kite surfers. My point is that statistically speaking, the number of attacks ever documented in Santa Cruz are not significant. Riptides and rocks, however, are another thing entirely.  80% of beach saves by lifeguards are due to rip tides.  Experts believe there are over 100 deaths per year occurring in our nation's beaches due to currents and rip tides.  Let's save this for another article.
REASONS FOR SHARKS HANGING OUT IN APTOS
Up to 15 juvenile Great White sharks were spotted near the cement ship in Aptos.  Something the news fails to discuss is the potential reasoning behind the visits.  Any surfer will tell you that hanging out in the waters surrounding any fishing areas increases the chances of getting injured by fish hooks as well as seeing sharks. Why is this? Fishermen throw bait into the water and sharks are drawn to blood and the sound waves of injured fish. There are also people interested in reeling in a shark and, therefore, chum the water specifically to entice the animals.
SURF LESSONS AND SURFING – SHARK SIGHTINGS?
Yes, I've been in the water with sharks while surfing. Three encounters with blues,
six (and more) with Leopards, and two known encounters with Great White sharks. This does not account for the frequency of unidentified 45 degree angle to body fins cutting through water, depending on factors such as: 1) Tides 2) Moon Phase 3) Location.
It happens.
However, the only physical offense within an encounter with these creatures came from me: I accidentally kicked a shark while surfing in El Porto, in Manhattan Beach. I couldn't see what type of shark it was. The impact sent it packing through the water away from the aggressor (me). I'd be lying if I told you that I didn't experience fear in the milliseconds between the "THUD" of my foot against a large, scratchy something and then opening my eyes to reveal the moving shadow.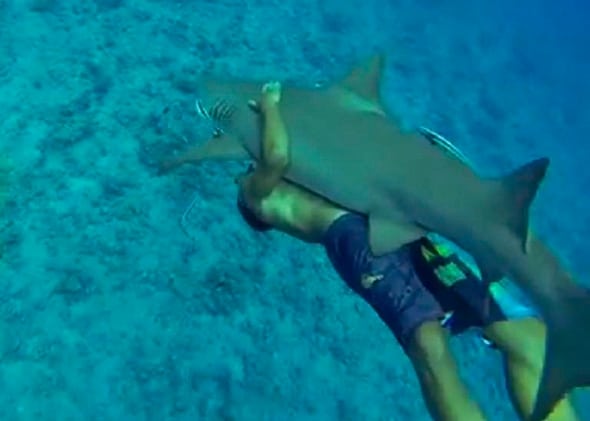 There was a moment in Venice Beach several years back, during a surf lesson, where I was caught off guard by my student's calm reaction to spotting a fin about 20 yards away from us.
"That's not a dolphin is it?"
"No, I don't think so. Would you like to get out of the water?"
"No, this is really cool."
We watched the creature continue on its way north.
(I have, however, been stung by a stingray, scraped up by reef and rocks, and hit in the head 7 times by someone learning to surf or taking a surf lesson.)
CONCLUSION
I realize that coming into contact with a shark is more terrifying than, say, being chased by a bee.  However, remember these key things:
a) Stay away from fishing areas during your surf lessons b) During surf lessons one has the advantage of being with someone whom spends most of their time in the ocean element (your surf instructor) and knows how to stay safe. Listen to him/her c) Most encounters occur with short board surfers (rumored to look like shadows of sea lions from a shark's view) and your surf lessons will take place upon a long board with very little opportunity for dangling legs. d) Santa Cruz has never had a fatal shark attack.
I hope this has helped quell any fears you may have associated with surf lessons. The sharks in Aptos are there for the free food and Santa Cruz has not had a significant number of attackers when compared with how many people spend time in the water.  Feel free to contact us if you have any questions or other concerns. We're happy to help. 🙂
Oh, and for those of you that want more proof that Great White Sharks are not man-eaters, please check this video out and also read about 7 Things More Dangerous Than Sharks.