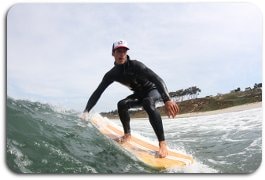 Sky Zucker
Sky has been teaching with Club Ed since 2005. Sky was born in Santa Cruz and comes from a surfing family well known and liked in the community. He is one of our most requested and holds the record for the most mentions in our reviews!  Sky works with a wide range of students from ages 7 to 75!
Sky is passionate about teaching surfing to Club Ed students.
 Julianno Jochins
Julianno has been our surf instructor for nearly 5 years.  He started teaching with Club Ed since 2011.  He loves giving surf lessons to people within all age ranges and abilities. Julianno is best known for his patience with his learn to surf students and, also, for shredding on international waves.  He's been known to take our beginners to competitive, advanced levels.
Rick Suchomel
Rick became part of Club Ed Surf in 2015!  He was a professional athlete for 22 years (ask him about it!) and became dedicated to surfing after leaving the competitive life. He is one of our most requested surf instructors (-check out our reviews!)  because of his patience and water wisdom.  We give him a hard time about being "dreamy".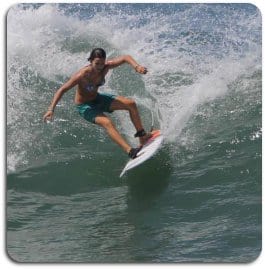 Jessica Rodgers
Jess has been a surf instructor with us since 2011. Her extensive ocean background includes: Junior Lifeguard for 9 years , a competitive surfer & prone paddle-boarder. She loves to give surf lessons in order to pass on her love and respect for the ocean.   Jess feels it is important to educate our students about the wildlife you may come into contact with while out in the ocean. She is also an EMT here in Santa Cruz.
Engue Naveau
Engue is a product of our summer camps!  He was bitten by the surf bug from a young age and signed up for our summer, overnight, surf camps as a grom! His passion for surfing led him to UC Santa Barbara where he pursued his passion for the ocean. A long time employee, he now directs the weekly summer camps and enjoys teaching lessons during the rest of the year.
Taylor Paul
Taylor Paul rode his first wave with Club Ed Surf school at the age of ten. Eight years later he reunited with Ed, sharing a boat with him to reach some big waves off the coast of Mexico. For the past six summers he's shared his love for surfing and the ocean with students from around the world. Taylor has bachelor's degree in Hospitality and Tourism Management (minor in Spanish) from San Diego State University. In the off-season, Taylor's committed to surfing big waves and seeing the world. So far he's traveled to almost forty countries, and recently returned from a eye-opening five-month journey through Africa. When not surfing, he likes to chase his shanked golf balls, read thought provoking books, and write (check his blog Life's Good When and Organizing a Surf Contest For Papua New Guinea Locals)
David Schulkin
David Schulkin has been surfing since 1989 and teaching surfing since 1998. He is the Head Surf Instructor for UC Santa Cruz, in addition to teaching for Club Ed. David has surfed all over the world, including Tonga, West Samoa, Japan, Indonesia, Chile, Costa Rica, Australia, and New Zealand, among other places. He has a Master's Degree in Counseling Psychology and currently provides therapy for individuals, couples, and families. David is a compassionate teacher who draws many parallels between the art of surfing and navigating life experiences—for example, going with the flow of the present moment, as well as appreciating and making the most of the opportunities at hand. You can learn more about David at www.davidschulkin.com