Surf Lessons
Surfing Camps
Club Ed teaches you etiquette, safety, skill and most of all just to have FUN!!!
If you want to learn to surf, or if you are looking for expert instruction from a person who has been surfing for years, definitely give Ed a call. -Tanya S.  
Our Story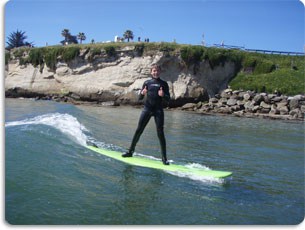 Santa Cruz is the best place to learn to surf on the planet, with the most consistent waves and widest variety of surf breaks in the Northern Hemisphere.
Our team of Master Surfing Instructors would love to help you live your dream to surf! We're dedicated to teaching surfing in the most fun, successful and safest environment available. We have a broad range of exciting surfing programs from first-time daily lessons for individuals or groups, to Surf Camps that give all levels of surfers a chance to camp out above the beach for a week and immerse themselves in the surfing lifestyle.
We also have special International Surf Camps located in Mexico, Costa Rica, Ecuador, Peru, Chile, Fiji, Samoa, Indonesia and where ever else you can dream up!
We hope you have the time of your life surfing with us. If you have any questions, please contact us.
Why Choose Us
Club Ed Surf School and Camps

 in Santa Cruz has a 

Lessons

 and 

Rental Trailer

 located on Cowell Beach.
They are voted as the Best Surf School in Santa Cruz and are the leader in introducing beginning and Intermediate surfers to 

surfing in Santa Cruz

.
Club Ed trains advanced and expert surfers too!
With professional Water Safety background since the early 80′s, 

Ed Guzman's Club Ed Surf School

 has successfully taught thousands of people to surf.
Great conditions for learning and equipment designed by Ed himself to make learning easier, expert Instructors that care about your experience and progress.

Club Ed Surf School

 teaches Surf lessons daily year round. We also teach Stand Up Paddling at all levels.
What our customers are saying?
I can't recommend Ed enough!  I took a private lesson with him this summer and was up on the wave the first go!  I'm hooked!!  And, it didn't stop there. I knew I was in good hands when everyone in the water seemed to love Ed and no wonder, Ed's a part of Santa Cruz…
We went to Club Ed through a group trip arranged by SJSU.  Their set up is on Cowell Beach in Santa Cruz, to the right of the wharf and in front of the West Coast Santa Cruz Hotel.  The people were all very laid back and friendly.  We had 4 or 5 instructors for our…
Just had another great day surfing with Club Ed in Santa Cruz.  We were a group of six – some returning, some new, some visiting from the east coast.  This is my 3rd outing in the last 1.5 years and all have been so enjoyable, well-executed and we all learned to surf – and to…
See what a difference professional surf instruction can make.